Flat hierarchies – good teamwork
The feeling of working together on the success of the Queisser brands is very pronounced in the company. Thus, finding new product and active ingredient combinations is not just left to the Queisser development department. Every single employee stands for the quality of the brand and contributes ideas to the multi-layered production process.
This goal-oriented, creative process of comprehensive cooperation is supported by a work organization based on the system of flat hierarchies and open doors. Thus, modern communication is possible, which includes immediate exchange of information and opinions.
At a time when three quarters of all German employees are worried about their jobs, and where over half of all Germans can no longer see any real point in their professional activity, it is extremely significant for Queisser's employees in Flensburg and throughout the world to work in a company which offers more than just job security and forecasts of a profitable future, we are talking here about a recognisable purpose to the whole operation. Here it is clear to everyone that the aim in all our activities and at all times is to maintain the health and wellbeing of the users of Queisser products. Could anything provide greater purpose to one's daily work?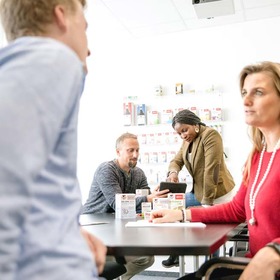 Constantly in dialogue with each other
Queisser Pharma attaches great importance to the exchange of opinions. This is especially true since Queisser Pharma is not an anonymous pharmaceutical group, but a medium-sized company managed with a great deal of personal commitment.
In doing so, Queisser Pharma builds on the competence and commitment of each individual employee and promotes the exchange between employees from different departments. Through consistent internal and external training of our employees, Queisser Pharma succeeds in meeting the high demands that our customers - and we ourselves - place on us.
Of course, openness to discussion does not stop at the company gates. The exchange with our customers and trade partners is just as much an obligation and makes an important contribution to maintaining quality.
Queisser Pharma is aware that not only flexible working hours help to reconcile family and career. It is particularly important to have a family-conscious corporate culture, which is also lived in the company. Solutions, individually tailored to each employee are thought together. Where possible, flexible working hours are offered.
For example, in order to spend more time with the children during the summer vacations, employees can build up overtime hours over the winter months. They can then use this to switch to a 4-day week, minimize daily working hours, or take a longer vacation with the children. Childcare, whether full-time or during the vacations, is also becoming increasingly important. For this reason, Queisser Pharma also offers childcare places at the "kiwi Adelby1" daycare center close to the company. The kiwi daycare center has a flexible childcare concept that is specially designed to meet the needs of working parents. For example, opening hours are Monday through Friday as needed, as well as during school vacations. Special services such as sibling care during the vacations also round off the offer. Queisser Pharma supports extended care hours or additional services through a company contribution. Parents only pay the regular daycare fee.
The last employee survey showed that employees are more satisfied than average with the company's family-friendliness and that the family-oriented attitude is highly appreciated.
We actively practice a personnel policy oriented toward equal opportunities for men and women. For example, Queisser Pharma has been awarded the TOTAL E-QUALITY seal of quality several times in a row.
Female specialists and managers are just as likely to be found at our company as male managers. There are no gender-specific differences in the pay of our employees. The jury statement for the current TOTAL E-QUALITY award states:
"The fundamental equal treatment of women and men continues to be a matter of course. Women have a strong and equal influence on entrepreneurial thinking and action. Measures to reconcile work and family life are implemented individually and in line with requirements."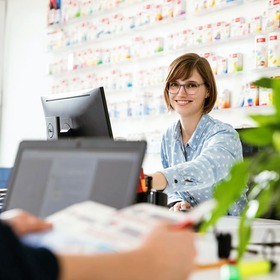 The company has grown significantly in recent years and has continued to maintain a balance between employed men and women. All expectant parents are offered a childcare place from the sixth month of life, co-financed by the company. The childcare is the most modern in the region: open all year round and suitable for parents' shift patterns. In a 2019 employee survey, employees attest to their company's above-average satisfaction with work-life balance and family friendliness. In 2019, Queisser was recognized as one of five national Top Job training companies.
Queisser Pharma has also been strongly committed to children in the region over the past three years, sponsoring regional projects for children up to the age of ten. Since 1987 and 2007, respectively, Queisser has awarded a prize to seniors or juniors who have distinguished themselves through special volunteer work in the region.
The company's commitment pays off, as evidenced by the fifth TOTAL E-QUALITY award (for the first time in 2008), but also the repeated award as a Top Job company since 2007. A strong employer brand in the region!
To be awarded five times is the sustainable proof of the strong commitment to equal opportunities. As a best practice example, Queisser Pharma GmbH & Co. KG contributes to the positive development of equal opportunities and diversity in our society.