In 1897 the pharmacist Alfred Queisser established the company in Hamburg. In those days his company, Queisser, produced toothpaste, liquid soap and creams.
In 1976 the company became Queisser Pharma when it was merged with that of Josef Peter Hennes, the developer of Doppelherz. In 1919 Hennes, the chemist, had started to manufacture a fortifying health tonic made from herbs and other natural essences in Essen. He called it Doppelherz Energy Tonic. In 1921 the tonic is distributed for the first time and as well registered as a trademark.
Since the end of the 1970s Queisser Pharma has belonged to Herm. G. Dethleffsen AG & Co KG, a family company famous in Flensburg since 1738.
Since 1987 the headquarters of Queisser Pharma have been located in the former production rooms of a rum manufacturer in Flensburg. In addition to other branded Queisser products, approximately 1 million litres of Doppelherz Energy Tonic are produced, bottled, packed for the market and dispatched from here every year.
Queisser Pharma is managed tradition-conscious and at the same time modern. With its many years of experience and expertise, modern and innovative health products are developed on a regular basis.
For many decades the demand for health products has increased. Our company headquarters in Flensburg has therefore been continuously adapted and expanded to meet the increasing demand. Many of our products are now manufactured, packaged and shipped in modern production lines. From our headquarters in Flensburg the products are transported all over Germany and shipped in the whole world. Until today, we have grown to more than 250 employees. This makes Queisser Pharma one of the largest employers in Flensburg.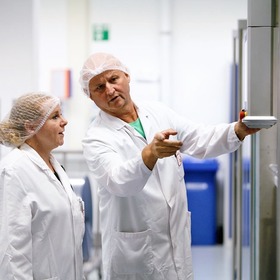 He who knows his goal will also achieve it
This clever basic rule of commercial strategy is the target-oriented motto of all business activities. Managing Director Jan K. Kuskowski formulates Queisser's goal quite clearly, "With Doppelherz we are on route to becoming one of Germany's biggest health brands."
Alongside demographic change there are halting cost-savings in the health sector, rising private contributions to health insurance and the associated drop in the provision of general medical care even in our erstwhile economic wonderland. Taking responsibility for one's own health is more than just a trend and extends far beyond the need for personal wellbeing. In this social backdrop, over-the-counter medicines and food supplements from Doppelherz occupy a prominent position.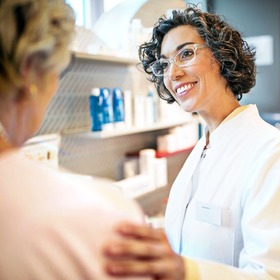 Preventive healthcare and self-medication
With competence and extreme care Queisser Pharma supports consumers at every step towards increased autonomy in matters of preventive healthcare and self-medication. At the same time we are always aware of our huge responsibility which extends far beyond the German Pharmaceuticals Law.
We see our social and legislative environment as a solid framework which is both an operative guideline and equally a creative challenge with the clear goal of which is to satisfy our customers' requirements to the best of our ability both now and in the future. We want our growth be steady and manageable at all times and are working on a daily basis to ensure that our products continue to remain life-stage companions for the health of our customers.
Rooted in the north of Germany
There is no question here of toying with the idea of following the example of other German companies and relocating our corporate headquarters abroad. Queisser Pharma will continue to remain firmly rooted in the north of Germany.
Our foreign business colleagues love coming to visit us on the Flensburg fjord and enjoy the cordial, friendly atmosphere of our down-to-earth, medium-sized company. Time and again we are proud that we do not radiate the cold impersonality of a large pharmaceutical company.