At our headquarters in Flensburg we develop, manufacture and market a wide range of selected products for the conservation and preservation of health. Whether it is medical drugs, medicines, food supplements or cosmetics – our range consists exclusively of high quality products.
Each of our employees represents the high quality of the products from Queisser Pharma. Our customers place their trust in our products. This trust is based on our offering of high quality, needS-oriented products.
It is our task to respond to our customers' aspirations regarding quality each and every day.
Products in Germany and abroad
At the heart of our business in Germany and abroad are high quality products for the preservation of health.
Under the Doppelherz brand, Queisser Pharma sells a wide range of freely available medical products and food supplements. In Germany, our products are sold in pharmacies, in drug stores and by food retailers.
In recent years, our range has been extended on a consistent basis with innovative products, including a wide range of vitamin and mineral preparations, which consistently stand out with their new and intelligent compositions. Each day, customers decide on the high-quality products offered by our company, making the products sold under the Doppelherz brand some of the most sold food supplements in Germany.
In addition to the well-known brand of Doppelherz, our range also includes further brands:
For over 50 years, the Protefix brand products have stood for optimum solutions for those who wear dentures. These high-quality products are also sold in pharmacies, in drug stores and by food retailers in Germany.
Sold exclusively in pharmacies are the LITOZIN rose hip products for more flexible joints, the Stozzon chlorophyll dragees to prevent bad breath and body odour, and the brand Ramend, which offers products that support natural bowel movements. These products complement the healthcare expertise of our company in pharmacies.
The Queisser Pharma products are also very popular at the international level. Products from the Doppelherz and Protefix brands are sold in several different countries. In this respect, one of our key focal points is Eastern Europe. In several Eastern European countries Doppelherz is a synonym for Omega 3 products.
The highly promising commitment of Queisser to African and Asian markets aims to ensure that the company remains on its growth trajectory into the future.
An overview of all the countries in which Queisser is represented with products, as well as further information on our export business, is available under International.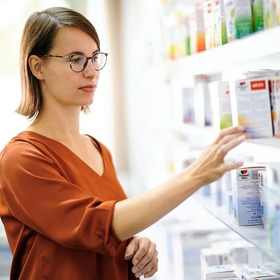 Employees and the nurturing of talented young employees
At the international level, more than 400 employees work for Queisser Pharma, over half of whom work in Germany, while the others work in our sales-oriented subsidiary companies and representations abroad. In this respect, our company has a particularly strong focus on Eastern Europe.
Some 250 people are employed at our headquarters in Flensburg in the north of Schleswig-Holstein. We aim to achieve a high degree of employee orientation and satisfaction. The awards and prizes that we have received in recent years help give us the courage to believe that we are on the right path. It is also clear, however, that we want to improve further and to develop our company. And we are working on achieving this. Good and motivated employees are the key requirement for succeeding on the path that we have taken.