In 1987, all the company's departments moved into the current location in Flensburg. Over the course of more than 30 years, the company has continuously developed and expanded in all areas. Queisser Pharma is a growing company with products that are in increasing demand around the world. Due to the positive development of the company, necessary expansion options are essential. That is why another milestone in Queisser Pharma's history was set in 2017: The design and construction of a new logistics center.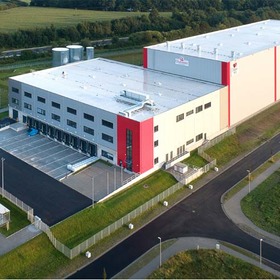 Construction of our new logistics center
In 2019, Queisser Pharma logistics with 50 employees relocated to the Heideland industrial park in Handewitt. Our new logistics center with a three-storey porch and a modern, fully automated high-bay warehouse has been built on the 40,000 m2 site.
At this location we have a total of 7,680 m² of floor space and 30,000 pallet spaces available. The property also offers us the opportunity to expand the usable area to up to 12,800 m². In the final expansion stage of the high-bay warehouse, a capacity of 71,300 pallet spaces can be provided.
In the following clip we show you more facts about the new logistics center and the construction of the building in fast motion.
The building process in motion